---
Dr. Nidhi Joshi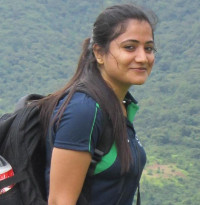 Completed Ph.D. (April 2014)
(Left for Post-Doc at IUCAA, Pune)
Email: nidhijoshi

Research interests:
Cosmic microwave background
Ph.D. supervisor: Sanjay Jhingan
Co-supervisor: Tarun Souradeep
Publications
Revealing Non-circular beam effect in WMAP-7 CMB maps with BipoSH measures of Statistical Isotropy
Nidhi Joshi, Santanu Das, Aditya Rotti, Sanjit Mitra, Tarun Souradeep
arXiv:1210.7318 [astro-ph.CO]
Statistics of Bipolar Representation of CMB maps
Nidhi Joshi, Aditya Rotti, Tarun Souradeep
Phys. Rev. D 85, 043004 (2012).
Bipolar Harmonic encoding of CMB correlation patterns
Nidhi Joshi, Sanjay Jhingan, Tarun Souradeep, Amir Hajian, Phys.Rev.D 81, 083012 (2010).
---