---
News update:
• Some Aspects of Theoretical Physics, May 14, 2013
• Dr. Ningombam Chandrachani successfully defends her Ph.D. thesis.
• 4th V V Narlikar Memorial Lecture The LIGO-India Project: Gravitational Wave Astronomy from India is delivered by Prof. Ajit Kembhavi, 18th March 2013, 2:30 pm.
• Dr. Amna Ali successfully defends her Ph.D. thesis.
• Prof. Naresh Dadhich now holds the M.A. Ansari Chair in Theoretical Physics at CTP.
Introduction
The Centre for Theoretical Physics is a vibrant research centre in the central university Jamia Millia Islamia. It was established in the year 2006.
During the last three years, Centre for Theoretical Physics (CTP) has grown into a leading centre for research in the country, and is the only centre in Delhi which is solely dedicated to research in theoretical physics. The Centre's activities are mainly in the areas of astrophysics, gravitation, cosmology and high energy physics. A significant number of scientists visit the centre each year, participating in workshops, seminars, training courses, and a range of other scientific activities.
Objectives of the Centre
To promote scientific research, advanced teaching and training in areas of theoretical physics particularly Cosmology, High Energy Physics, Nuclear Physics.
To provide a forum for interaction among scientists, research workers, teachers and students involved in these disciplines with each other and also among national and international experts in those areas.
To provide research facilities to individual workers or research groups, especially to those who are deprived of such facilities for extended periods.
To create an atmosphere of scientific awareness, motivation for new ideas and interdisciplinary research.
To disseminate knowledge of recent advances in Theoretical Physics on a popular level among students and general public with a view to inculcate scientific temper which is essential to build a modern society in India.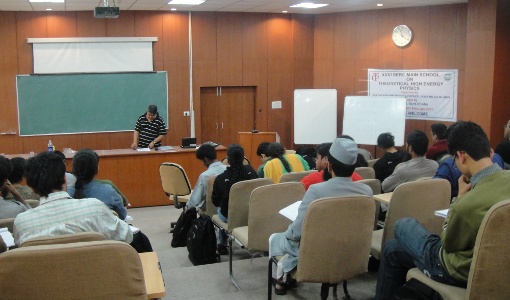 ---