---
Taramandal
The Taramandal is a mini-planetarium consisting of an inflatable dome, which is used to conduct interactive shows of a simulated night sky. The inflated dome fits within about 26ft x 26ft of ground space and 13ft of unobstructed height. The dome is inflated using a blower fan, which also ventilates the dome and keeps it comfortably cool. A projector is kept inside the inflated dome, and creates images of a starry sky on the inside of the dome, giving an experience of sky-watching.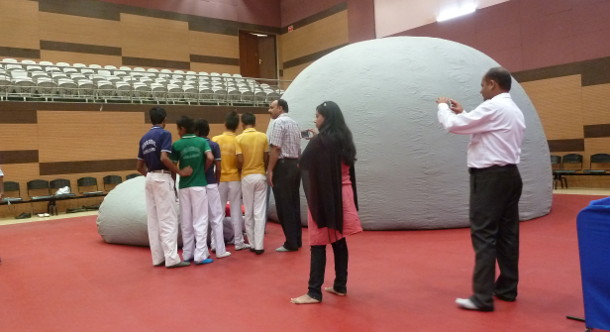 Taramandal: Regular Sessions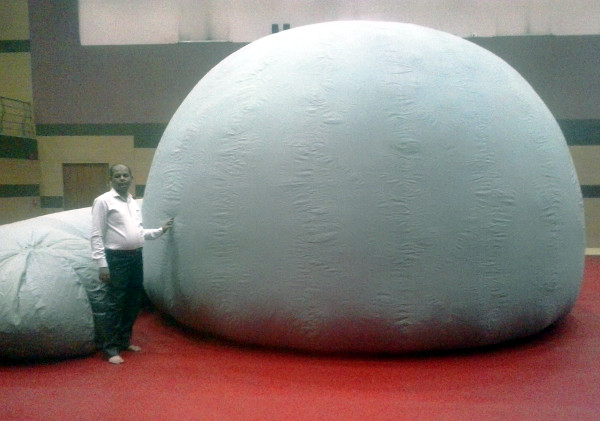 The mobile planetarium, Taramandal is now routinely being used to teach school students about stars, planets and skywatching. Taramandal sessions are conducted by Fasih Uzzama who underwent a training program for the same in Inter-University Centre for Astronomy and Astrophysics (IUCAA), Pune with assistance from Shibesh Kumar Jas Pacif.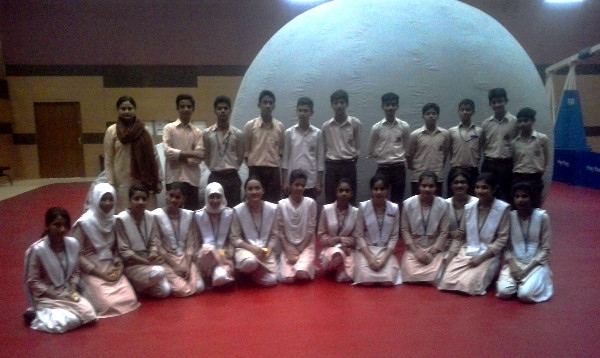 Two sessions were conducted on 18th and 19th November 2015. These were long, two-hours sessions from 11:00 AM to 1:00 PM, for Jamia Sr. Sec. School (Self Financing) students. Third session was conducted on 7th December 2015, 3-4 PM.
A Taramandal session was conducted for students of Four Steps Special School, Kailash Colony, on 9th February 2016. All the sessions were conducted in the indoor games hall of Jamia Sports Complex.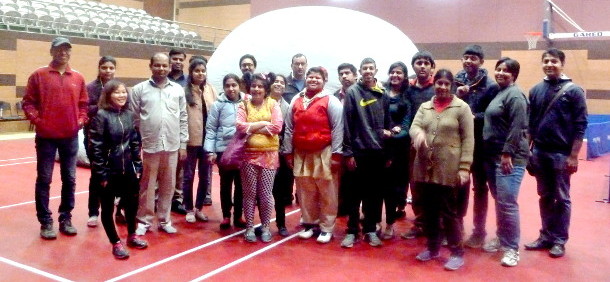 More Taramandal sessions are planned for students from other schools.
Taramandal: Getting started
Samir Dhurde from IUCAA, Pune was invited to CTP to give a hands-on demonstration of the portable planetarium Taramandal.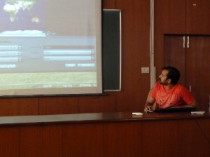 A Tarmandal session was organised on 6th September 2013 for Jamia School students, in which Samir Dhurde first organised a training session for CTP members for operating Taramandal. Following this the Taramandal session was carried out for the Jamia School students, in which the students were introduced to sky-watching and recognizing various constellations. In an interactive session after that, Samir Dhurde answered various questions thrown by the excited students.
Later in the day, another training session was organised for CTP members in which Samir Dhurde introduced the open-source planetarium software Stellarium, and suggested various programs that CTP members can organise as part of the Public Outreach Program, using Stellarium.
---
Outreach events